(Short edition)

Środa Wielkopolska. The northern side of the square with (in the background) the Virgin Mary's Ascension Church
Distance
Mosina
33 km V,
Population
22.325 (2011)
Location and history
Środa Wielkopolska is – as its name implies – in Wielkopolska County, 35 km southeast of Poznań.
The exact time of the founding of the city is unknown, but it is believed to have occurred between 1253 and 1281. Środa was surrounded by a defensive wall through which 3 city gates led. The fortification of the city is mentioned for the first time in the documents in the early 1400s, but is of course much older. (The city wall was demolished after 1797). In 1793, Środa was taken by the Prussian army in connection with the division of Poland, and the city was then under Prussian rule until 1918.
Tourist attractions
Selected attractions:
Square
in the old city make up the remains of the medieval city. The course of the streets in the old city is the same as in the Middle Ages.
Virgin Mary's Church of the Assumption
The parish church, in the late Gothic style, was rebuilt from 1423-1428, rebuilt around the year 1500. At the choir is added the Gostomski Chapel from 1598-1602 – in the late Renaissance style.
The water tower
from 1910-11.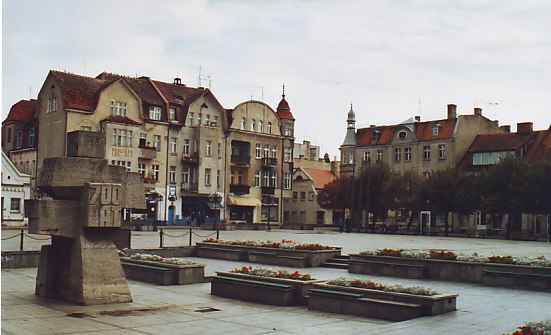 The north and east side of the old square in daroda Wielkopolska
Surrounding Area
Streams and lakes
Near the south of the city of daroda, the river Moskva. The main tributary is Struga Średzka. In 1972 they built on Moscow's run, on the outskirts of Środa, an artificial water reservoir. This also created a beach for the benefit of the city's inhabitants.
Accommodation

Środa Wielkopolska – in Polish, English, German and French
Other Internet sites and sources
Środa Wielkopolska – in Polish, English, German and French
Translated into English by Google Translate. Spangshus.dk accept no liability for any errors or omissions in translation.