St. Andrew's Church in Konin. – Photo by: qbas81, Konin kosciol sw andrzeja, CC BY-SA 1.0
Distance
Pleszew
66 km SV,
Słupca
27 km NV,
Kłodawa
51 km E,
Population
77.612 (2010)
Location and history
The town of Konin is located in central Poland, in the eastern part of Wielkopolska county, on the river Warta. Near the south of the city, the A2 (E30) motorway connects Poznań with Łódź and Warsaw and, along with the original highway 2, forms part of the Berlin-Moscow international route. In the north-south direction, the city passes through highway 25 (Bydgoszcz-Kalisz).
Konin became a market town in 1293. From the 17th century, the city's development was hampered by epidemics, various acts of war and fires. Only after World War II did significant growth occur in the city – both in industrial and population terms.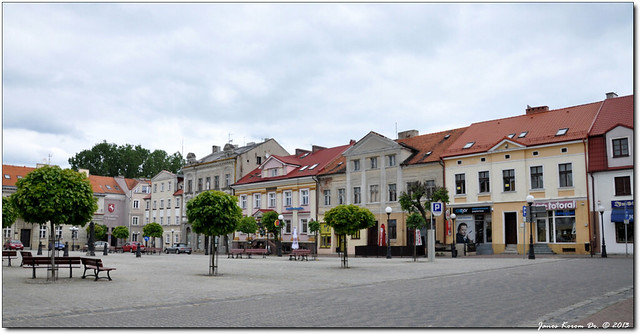 The square in Konin. – Photo by: János Korom Dr. on Flickr
Tourist attractions
Selected attractions:
Mile stone
At the Bartholomew Church stands the oldest roadstone in Poland (and one of the oldest in Europe), a milestone that marks the centerpiece of the route from Kruszwica to Kalisz. The stone is cone shaped, measures 252 cm in height and derives from the inscription from 1151.
St. Bartholomew's Church
The church was erected at the transition between the 14th and 15th centuries. – predominantly in Gothic style. The Gothic Chapel at the choir was founded in the 15th century.
Borgen
The Gothic castle was built on the southern shore of Lake Gosławice in the years between 1418 and 1426. The castle consists of two buildings, connected by a somewhat lower wing, forming a smaller courtyard. It is all surrounded by a ring wall. The most recent renovation took place in 1970'the 1980s's. The buildings now include the regional museum.
Surrounding Area
Immediately north of Konin stretches a system of canals and lakes (2 canals, 4 locks, 1 dam and 3 lakes) – right up to the town of Kruszwica. The southernmost channel connects to the river Warta.
Accommodation

Konin – in Polish and English – with practical information for tourists
Other Internet sites and sources
Konin – in Polish and in English
Translated into English by Google Translate. Spangshus.dk accept no liability for any errors or omissions in translation.