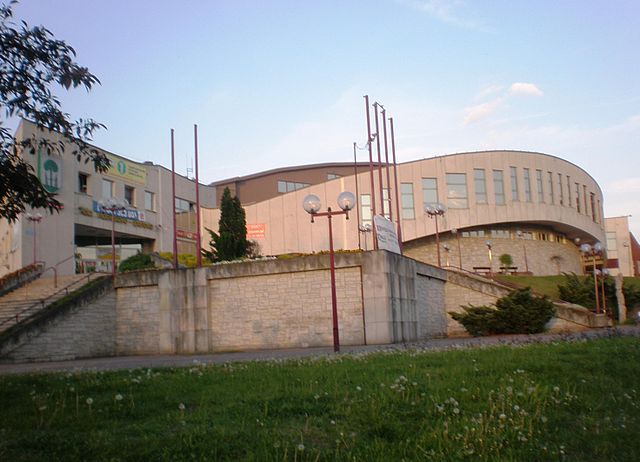 Theater and Sports Hall in Jaworzno. – Photo by: Skyblue, Jaworzno-Hala Sportowa, CC BY-SA 4.0
Distance
Bieruń
23 km SV,
Bukowno
20 km NE,
Population
95.512 (2009)
Location and history
Jaworzno is located in the easternmost part of the Silesian county, on the border between Upper Silesia and Małopolska. To the west, there are only a few kilometers to the large, interconnected urban area known as the Katowice area.
The town's name comes off "Jawor"that means "maple", a tree that occurs frequently in the city area.
Although the current town was first granted commercial property rights in 1901, the history of the town dates back to the 13th century. The city has since ancient times been on the border between the Silesian princes and the Kingdom of Poland, that is, the region of Małopolska, to which Jaworzno was historically linked. During the division of Poland, the river Przemsza (Biała Przemsza and Czarna Przemsza) was border river, ie. until 1918. During the division, Jaworzno lay in the Austrian part; Mysłowice, a few kilometers to the west, belonged to Prussia / Germany, while Sosnowiec to the northwest was Russian. Jaworzno was thus close to the point where the territories of the three empires clashed.
Of great importance to the development of the city was the ore mining that took place here since the early Middle Ages. From 1760'The coal miners came here.
Tourist attractions
Selected attractions:
diocese Church
St. Wojciech and St. Katarzyna's Diocese of 1532 with a baroque altar in black marble from the 17th century.
The castle
in Jaworzno from the 19th century.
City Museum
Surrounding Area
Katowice .
Oświęcim
with the KZ Camp Museum.
Accommodation
Other Internet sites and sources
Translated into English by Google Translate. Spangshus.dk accept no liability for any errors or omissions in translation.