(Short edition)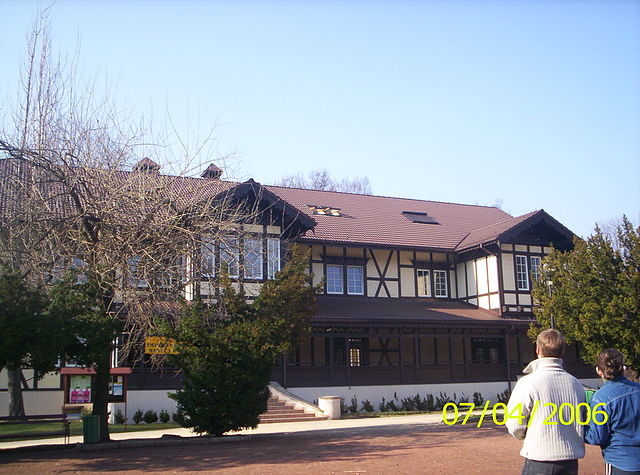 Spas in Jastrzębie-Zdrój. – Photo by: Kanion, 100 3803, CC BY-SA 3.0
Distance
Krzanowice
41 km NV,
Bieruń
49 km NE,
Kuźnia Raciborska
42 km NV,
Brzeszcze
45 km NE,
Pszów
18 km NV,
Goczałkowice-Zdrój
33 km E,
Szczyrk
63 km SE,
Population
91.322 (2010)
Location and history
Jastrzębie-Zdrój is located in the southern part of the Silesian region, quite close to the Czech border. The city is located south / southwest of the Katowice area, 55 km southwest of Katowice city.
Jastrzebie's history as a city is not long, as the city first gained market town rights in 1963. But the history of the locality goes back much further. The development of the site is inextricably linked to the discovery of the salt water sources and the emergence of the spa. In 1862 a spa house was opened in the Kurparken. In 1922, the city became part of the reborn Polish state. In the interwar period, Mikołaj Witczak (one of the leaders of the Silesian uprising against the Germans) was co-owner of the spa, and during his time considerable development of the activities took place and the place became famous throughout the country. As a result of geological investigations in 1951, rich deposits of coal were discovered in the underground. The first coal mine was commissioned in 1962. As mining became important to the city's development, the importance of the health resort diminished and development in this area stalled. In the period up to 1974 another 4 coal mines were opened. Jastrzębie-Zdrój was now predominantly an industrial city. The growth in population and construction was due to mining as well as other industries: the food industry, the manufacture of building materials and the plastics industry.
Tourist attractions
Selected attractions:
Kurhuset (Dom Zdrojowy)
in the spa park was built in 1862 in the so-called Swiss style with the use of a half-timbered structure.
Kurpark (Park Zdrojowy)
was established in the early 1860s's. The first buildings in the park were the first spa house and one "Pijalnia" (drinking house or drinking place where guests can enjoy the spring water). A salt water source containing iodine and bromine was found in the park area.
Surrounding Area
To the northeast one has Katowice Area .
The city is located in a border area near the Czech Republic. The southern suburbs go all the way to the border. The nearest actual border crossing is approximately 8 km.
To the east lies the large Goczałkowice lake.
Further to the southeast, the mountain area Beskid Śląski stretches with tourist centers such as Ustroń, Wisła and Szczyrk.
Accommodation

Jastrzębie-Zdrój – with practical information for tourists
Eating Out:
Jastrzębie-Zdrój – with practical information for tourists
Other Internet sites and sources
Translated into English by Google Translate. Spangshus.dk accept no liability for any errors or omissions in translation.