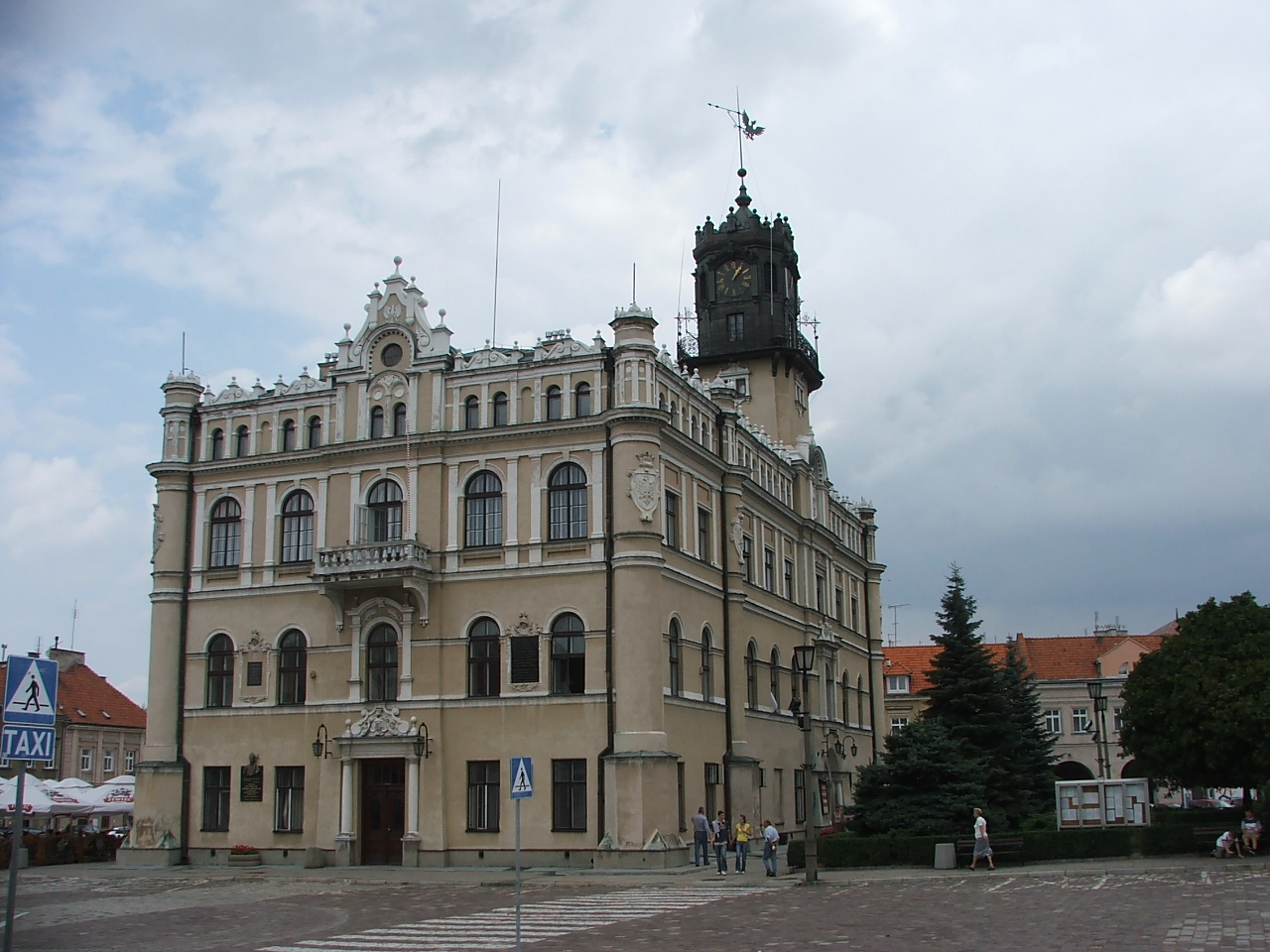 Town Hall in the town of Jarosław in the eastern part of Podkarpacie
County: Podkarpackie (County of Carpathian Rain)
Location and history
The new Podkarpacie region created by the county government reform 1.1.1999 includes the eastern part of The historic Malopolska and thus borders south to Slovakia, west to Malopolska, northwest to Holy Cross region, north to Lublin region and east to Ukraine. The main town is Rzeszów.
In fact, Podkarpacie is a broader geographical term for the lower lying areas northwest, north and northeast of the Carpathians in the Czech Republic, Poland and Ukraine, respectively. In the name of the administrative county "Wojewodztwo Podkarpackie" represents "Podkarpacie" on the other hand, only the area north of that part of the Western Carpathians found within Poland's borders. The county name can be translated as "The County of Carpathian Rain".
Bieszczady is the name of the part of the Carpathian mountain range in the region, and thus also of the entire southern part of the Podkarpacie region.
History:
About the story, read The historic Malopolska
subregions:

The castle in cutańcut
Accommodation
Bieszczady
relating to. accommodation in Bieszczady, see the page about this sub-region
Also read about accommodation under individual cities in the region.
Some towns in the county
Baligród, Baranów Sandomierski , Brzozów, Czarna, Dębica , Iwonicz-Zdrój, Jarosław , Jasło , Kolbuszowa, Krosno , Łańcut , Leżajsk , Lesko , Lubaczów , Lutowiska,Mielec , Nisko, Przemyśl , Przeworsk , Ropczyce, Rymanów , Rzeszów , Sanok , Sieniawa, Solina, Stalowa Wola , Strzyżów , Tarnobrzeg ,Ustrzyki Dolne .
links
Southern Poland
Podkarpacki Urząd Wojewódzki – The county side
Special links:
Bieszczady
Bieszczady National Park
Translated into English by Google Translate. Spangshus.dk accept no liability for any errors or omissions in translation.